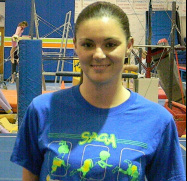 Maria Hennelly
Started at SAGA: 2012
Coaches: Preschool, Girl's Recreational, Advanced Girl's Recreational, Hotshots, and Pre-Team
Certifications: First Aid/CPR, Concussion Sports Injury, AED, Teaching Certificate (K-8)
Background: Maria did gymnastics for 10 years and was a level 6 gymnast. In her spare time, she enjoys making jewelry. She also coaches tumbling at Albuquerque Academy, and teaches middle school math.
---