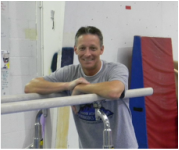 Rob Overmyer
Started at SAGA: 2010
Coaches: Boy's Recreational and Boy's Level 4, 6 and Up
Certifications: Red Cross First Aid, CPR and AED, Fundamentals of Gymnastics Instruction (USAG), Safety/Risk Management (NFHS), Concussion in Sports (NFHS)

Background: Robert competed in gymnastics up to his graduation in 1992. From 1992 to 2003, Robert coached both compulsory and optional team boys starting in 1999. He produced state championship teams for levels 4, 5, and 6 in 2001, 2002 and 2003! During the day, Robert is a structural steel detailer and checker and has worked on projects such as the Isotopes Stadium. In his free time, he enjoys crewing for hot air balloons and spending time with his daughter!

---