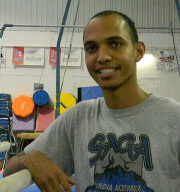 Ryan Steadman
Started at SAGA: 2012

Coaches: Preschool, Boy's Recreational, Advanced Boy's Recreational, Boy's Team, Summer Camp

Certifications: First Aid/CPR, Concussion in Sports (NFHS)

Background: Ryan has experience in cheer tumbling and ran track at UNM. He likes to go running and hiking in his spare time. He also has an interest in competitive eating.

---