National Gymnastics Day!
September 16th-October 16th


To celebrate National Gymnastics Day, SAGA is hosting a Cartwheel Video Challenge! Post your cartwheel video to our Facebook or Instagram page and tag SAGA! Remember to #NGD2017!
The winner of our challenge will win a free month of gymnastics!

---
SAGA will NOT be hosting an Open House on September 23rd. We apologize for any inconvenience this may cause you!

---
SAGA offers a variety of special events for SAGA students, for their friends and guests, and for members of the community. See below for more information our our open gyms, our Kid's Night Out evenings, field trips, and cheer workshops. Give us a call today at 505.884.6949 to reserve your space!
Open Gym

Toddler Open Gym
Mobile to 3 Years

Tuesdays and Fridays
11:15am - 11:45am

FREE for Currently Enrolled Students Under 3!
$3/Guests, Friends and All Children 3-7



---
Kids' Night Out

You deserve a night for yourselves! Drop the kids off at SAGA and rest easy knowing that your child will enjoy gymnastics, pizza, games and a movie, all under the watchful eyes of our great staff! We'll give you a carefree evening with enough time to go out to dinner and see a movie! Kids' Night Out is open to anyone, any age, and it will be held periodically on Saturday evenings from 6 - 10pm. And you can't beat the price: less than a babysitter, and dinner is included!

Cost: $25.00/ members, $30.00/guests (Family discounts available)
Open to all ages!



*Due to coach/student ratios we do fill up and space is limited. Please call early to reserve a space for your child.

All Special Events are Non-Refundable.


---
Field Trips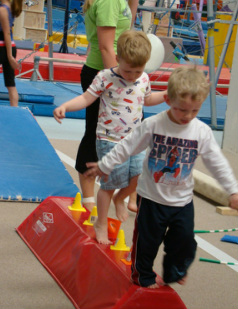 Bring your school or group for a private field trip at SAGA! Let us entertain your group as they come to try a little gymnastics and get active for an entire hour. Our coaches will put your students through a series of challenges including: walking along balance beams, jumping on the trampoline, climbing on P-bars, hanging on uneven bars, swinging through the foam pit and much, much more!! There is no age or skill requirement for field trips so you can bring everyone. Please call to schedule your next group outing today!

---